Burton Albion Community Trust
has once again teamed up with African Adventure to offer its supporters, participants and members of our community a unique opportunity to volunte
er in Ghana – and you're invited to join!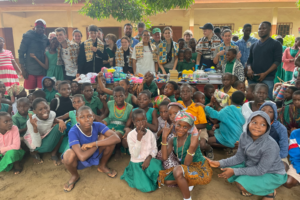 Once again, Burton Albion Community Trust will be returning to Woe, in the Volta Region of Ghana following the success of our #BrewersInGhana2022 Trip.  
African Adventures is a unique volunteer travel company, dedicated to improving lives in the UK and Africa through volunteering. We work with 12 schools in the Volta region of Ghana that help improve the lives of the 5,500 children who attend. 
Burton Albion Community Trust's 10-night trip takes place on 1st April 2023. You'll make a real difference by volunteering at one of our partner schools, where you can help teach in lessons, coach sports, or build new classrooms. Away from volunteering, you'll have the chance to kick back and relax with an overnight stay at a spectacular beach resort. 
For more information, please contact Paul.gaskin@burtonalbionct.org