Long Covid Recovery and Rehabilitation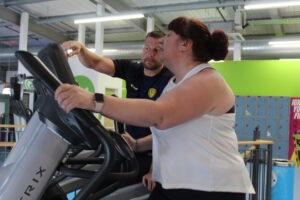 Burton Albion Community Trust has launched a pilot Long Covid rehabilitation programme in partnership with researchers at Birmingham City University (BCU) and the Gym Group. The long-Covid recovery and rehabilitation programme is part of a pilot project being trialled in four locations across Staffordshire and involving local sports and wellbeing charity Together Active and the Midlands Partnership NHS Foundation Trust.
Long-Covid is where symptoms associated with Covid such as breathing difficulties, tiredness and fatigue, memory loss, brain fog, fever, poor appetite, amongst other symptoms continue for 12 weeks after initial infection. The condition is reported to affect 1 in 3 people, but the range and severity of symptoms can vary greatly among those affected. Anyone suffering with the devastating affects of Long Covid can sign up for the programme.
To get involved in the programme or for more information, please contact: Steve.Rimmer@burtonalbionct.org or call 07791 591261