Premier League Kicks
Premier League Kicks uses the power of football to connect with young people in some of the most high-need areas of the UK.
The youth outreach programme began ten years ago, with the aim to create safer, stronger and more respectful communities through the development of young people's potential, whilst providing access to facilities, coaching and mentoring.
When: We run various sessions across the week from Monday-Saturday, outside of school hours.
Where: We're working in some of the hardest to reach areas of East Staffordshire. (See below)
Cost: All of our Premier League Kicks sessions are FREE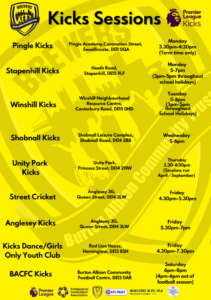 Call 01283 246207 or email harry.clamp@burtonalbionct.org for more information.