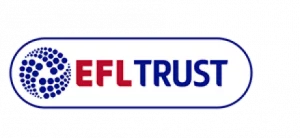 Move & Learn Project
EFL Move & learn
Underpinned by the unique Joy of Moving methodology, the

Move & Learn project

is aimed at inspiring children of 9-10 years old (year 5&6) of all abilities to move through play. We know that it's important to get this age range moving, as data from Sport England shows that only 22% of children from Year groups 5 – 6 are active every day. The

Move & Learn project

has been developed in partnership with the English Football League Trust (EFL Trust) and delivered with support from the Scottish Professional Football League Trust (SPFLT) and the Football Association of Ireland (FAI) and the Community Club Organisations across the UK and Ireland.

 

Taking part in the six-week course gives each child nine hours of learning through fun games and exercises inspired by the Joy of Moving methodology. During the

Move & Learn project

, children learn the importance of physical activity, the connection between the body & mind, meal planning, hydration and balanced diets based on the Eatwell Guide.

 
Joy Of Moving festivals
The

Joy of Moving Festivals

are the latest addition to the Joy of Moving programme and have already become a firm favourite among teachers and students. Developed in partnership with the EFL Trust and delivered by the EFL Trust and SPFLT through a network of dedicated Community Club Organisations, the Festivals offer a great opportunity for children of all ages and abilities to learn life skills and move through play.

 

The

Joy of Moving Festivals

are half or full day events which help schools build physical activity into their daily routine. Taking place during the summer term in over 100 schools across the UK, the specially designed games and activities help children to develop skills including communication, empathy and team work.

 
For more information: Email louisa.abbey@burtonalbionct.org or visit the Joy of Moving website