THIS week is EFL Week of Action, where all 72 EFL clubs unite to highlight the impact they have on their communities as a collective. 
It is the perfect chance to showcase Burton Albion Community Trust's active prehab and recovery programmes. They are designed to facilitate those who are newly diagnosed with cancer local to the community of Burton and East Staffordshire, to engage in appropriate exercise, undertake nutrition guidance and experience improved emotional well-being.
Here is the story of the two of the participants who have benefitted from the programme.
Linsey Galley:
After being diagnosed with breast cancer, I joined the Active Recovery program for my mental and physical well being. The gym environment was something I avoided before taking part in the Active Recovery program. I have gained so much, working through recovery, using a variety of exercises, and techniques, using different gym equipment. Having wonderful support and encouragement along the way. The difference this has made is a greater understanding of my own body. Going forward with a positive attitude towards exercise.
Recently I took part in the Burton Brewers 10k. Something I would not have done before joining the recovery program. It's wonderful what you can achieve through help and guidance. I am grateful to everyone involved in my recovery.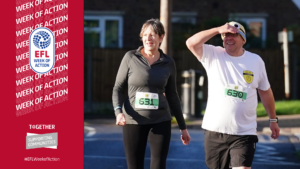 Dave Ward:
"I was 6 months out of treatment for Follicular lymphoma when my therapist suggested I look into joining the Active Recovery Program. At that time I was struggling both physically and mentally. I was finding it hard to accept that after fighting cancer and being in remission my condition could not be cured. It can be managed and treated but its likely it will return at some stage. I had not worked for 18 months and my weight and fitness were not good. I wanted to start playing golf again and going for long country walks, however after a basket of balls at the driving range it would take me 3 or 4 days to recover.
"After joining Active Recovery we put together a program designed to build muscles specifically to help with the golf swing and to improve general fitness and stamina. The team have also shown me the benefits of stretching and flexing exercises and with their help I have developed my own routine which I start most days with.
"I can now easily play 18 holes of golf twice a week and practice without injury or resting. I can go for 5,6 or 7km walks regularly and I am much more flexible and agile generally.
"I am now at the stage where my general fitness is at least as good, if not better, than it was before being diagnosed with cancer. Through the discussions with the program team and my haematology team I am now more aware of the benefits of keeping fit and a good fresh food diet. Also that the best way of delaying the illness returning is to stay as healthy as possible. This has helped me see the positive side of my illness rather than focusing on the negative. In general this has all helped me feel healthier and happier in day to day life."