Weekly Draw Partnership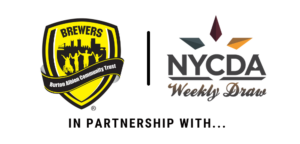 One major part of the Trust's fundraising efforts is our partnership with our Official Lottery Partners at the National Youth & Community Development Association (NYCDA). NYCDA is a not for profit organisation committed to helping its partners, like BACT, to raise as much funding as possible through its NYCDA Weekly Draw.
All proceeds from the partnership will go towards our mission of 'Making a difference to our communities through the power of sport and brand of Burton Albion FC'. The funds that we raise through this Weekly Draw are crucial as we seek to deliver many more of our initiatives to the wider community, and we thank you in advance for your support.
BACT's programmes reach out to children as young as two years old right the way through to last year when a lady celebrated her 100th birthday on one of our active ageing projects.
Last year, BACT delivered more than 21,000 hours of community engagement across 46 different projects, averaging more than 7,200 community members each week. This would not happen without the amazing community partners who support BACT and also individuals, such as you, who continue to support us.
The partnership approach not only helps us grow with access to extra resources and staff, but means there are £1000s of cash prizes up for grabs for Burton Albion Community Trust supporting members. For as little as £1 per week, there is a regular weekly £1000 jackpot and other amounts available such as £100, £50 x 2, £25 x 2 and 10 x £10. Members even have the chance to win the £500 Rollover Extra that can reach a huge £10,000!
Finally, we would like to thank you again for your support as we need it now more than ever. Please do say hello to the sales team when they are active across Burton in businesses and community settings. As always, keep an eye out on the website and social media platforms for upcoming news on this partnership including results and information on the projects it supports.
For more information: Call 01283 899019 or email lottery@burtonalbionct.org
Burton Albion Community Trust is a partner of NYCDA & beneficiary of the NYCDA Weekly Draw. Gambling Commission account No. 5166. Registered Office:1-2 Frecheville Court, Bury,
BL9 0UF. Responsible Person: Mr M Brocklehurst. For more info, including terms and conditions, visit www.nycdaweeklydraw.co.uk