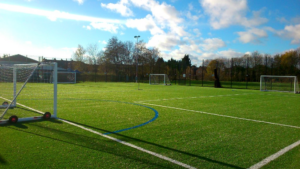 We offer one 7-aside pitch – a unique sized playing area set in the venue of Anglesey Primary Academy.
Whether you're looking for a training venue for your team, match day facility or just to enjoy a casual kick about with your friends, Anglesey Community Football Centre is the perfect place for you.
The ACFC facility can be used throughout the week from 5:30pm -9:30pm and weekends from 9am – 2pm and you'll find our prices very affordable.
To book or for more information: Call 01283 246207 or email facilities@burtonalbionct.org