Burton Albion Community Trust is partnered with African Adventures to deliver once-in-a-lifetime trips with schools and the community to Kenya and Ghana. We first started our partnership and trip experience back in 2014 when we took a group of 17 volunteers to Ghana. This year we completed our 8th trip in April 2023.
African Adventures is a unique volunteer travel company, dedicated to improving lives in the UK and Africa through volunteering. They work with over 20 schools in the developing areas of Ghana, Kenya & Zanzibar. Whether you want to teach in classrooms or help build a new one, we put their needs first.
Ghana
Our 2024 trip is still open to sign up and we are offering 1 fully funded and 1 part funded place for the trip. We want to allow those who may not be able to pay the full amount a chance to experience this amazing once in a lifetime opportunity.
To apply for your fully / part funded place please complete this application form:
African Adventures Application Form
Burton Albion Community Trust's 10-night trip takes place every easter half term (23rd March – 2nd April 2024). This experience invites Burton Albion Fans, Burton Albion Community Trust supporters or simply anyone with an interest to take a step out of their comfort zone and improve their skills but also the lives of the local community in Ghana.
You'll make a real difference by volunteering at one of our partner schools where you can help teach in lessons, coach sports, or build new classrooms. Away from volunteering, you'll have the chance to kick back and relax with the Volta Adventure, where you will have entry to the monkey sanctuary, the Wli Falls and an overnight stay.
For more information about Brewers In Ghana: Email paul.gaskin@burtonalbionct.org.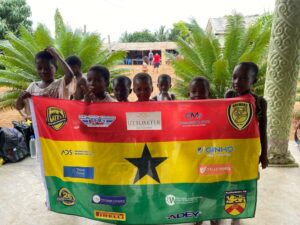 Kenya
Burton Albion Community Trust has been given the opportunity to extend our community trips into secondary schools with The de Ferrers Trust in October 2024. We are the first football club to be partnered with African Adventures to offer students the new CCO Education Programme. This unique trip sends students on a volunteering experience not only with their school and friends but also with Burton Albion Community Trust.
Students can help build new classrooms, deliver sports coaching sessions, or teach in classrooms and will return with a determined and positive mindset. Away from volunteering, the students have the chance to go to Rift Valley for a safari, an elephant orphanage where they get to listen to the stories about the individual elephants, watch them being fed and even adopt one and even the giraffe sanctuary, where the students will get to feed the giraffes and even get a kiss from them if they are lucky. The students will also get a 'Taste of Kenya Day' where they will visit a local coffee farm, a traditional African market and get to make their own chapatis.
Each volunteer is tasked with fundraising the cost of the trip to cover flights, transfers, accommodation, three meals a day, activities but also a contribution to Burton Albion Community Trust programmes and the Kenyan school projects.
For more information regarding Brewers Schools In Kenya: Email paul.gaskin@burtonalbionct.org