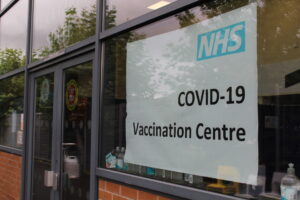 VACCINATIONS for both seasonal Flu and Covid-19 will once again be offered at the award-winning Pirelli Stadium Vaccination Centre.
Eligible patients within the East Staffordshire area will receive invitations via text messages and can book appointments through the link provided.
Vaccines will be offered to the following groups in line with government guidance:
All adults aged 65 years and over;
Persons aged 6 months to 64 years in a clinical risk group,;
Persons aged 12 to 64 years who are household contacts of people with immunosuppression;
Persons aged 16 to 64 years who are carers.
All appointments can only be made via your GP Surgery and not by Burton Albion Community Trust or Burton Albion Football Club.
Walk ins are available on Sundays.
Confirmed dates and times are: 
Thursday 5th October 9:00am – 12:30pm / 1:00pm – 4:30pm
Friday 6th October 9:00am – 12:30pm / 1:00pm – 4:30pm
Sunday 8th October 9:00am – 12:30pm / 1:00pm – 4:30pm
Thursday 12th October 9:00am – 12:30pm / 1:00pm – 4:30pm
Friday 13th October 9:00am – 12:30pm / 1:00pm – 4:30pm
Saturday 14th October 9:00am – 12:30pm / 1:00pm – 4:30pm
Sunday 15th October 9:00am – 12:30pm / 1:00pm – 4:30pm
Thursday 19th October 9:00am – 12:30pm / 1:00pm – 4:30pm
Friday 20th October 9:00am – 12:30pm / 1:00pm – 4:30pm
Sunday 22nd October 9:00am – 12:30pm / 1:00pm – 4:30pm
Thursday 26th October 9:00am – 12:30pm / 1:00pm – 4:30pm
Friday 27th October 9:00am – 12:30pm / 1:00pm – 4:30pm
For more information: Email roy.burton@burtonalbionct.org