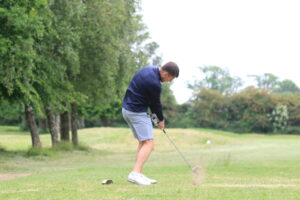 After our successful Charity Golf Day last year, we are delighted to announce the BACT Charity Golf League, sponsored by Raygar Architectural & Engineering Supplies Ltd. The league will take place at Broughton Heath Golf Club in Church Broughton. BACT has very kindly been selected as Charity of the Year for the Golf Club. 
The league will consist of three dates and at the end there will be prizes for the winners.
How the league works
The three events will take place on the dates below. Each will include golf, some food and networking.
Thursday 11 May – Golf and Breakfast

Thursday 13 July – Golf and Dinner

Wednesday 20 September – Golf and Lunch
Enter as a pair to represent your organisation in the league. Your best two rounds from the three will count towards your league position at the end of the three. Entry is £180 per pair, covering all three events.
If you can only make one or two of the events, you will be welcome and able to take part, but it will affect your chances of taking the prizes. Likewise, if you one person or three, you can still take part and we will build the groups for you.
To enter and for more information: Call 01283 246207 or email friends@burtonalbionct.org